Ocean Park, Santa Monica
Located in the southwest corner of Santa Monica is the Ocean Park neighborhood. This neighborhood has a mix of older smaller homes, apartment buildings, large homes near the beach and condos. The area is bounded by Pico Blvd to the north, Lincoln Blvd on the east, Dewey St. on the south and the Pacific Ocean on the west.
The area has a beachy, artsy feel similar in manner to its neighbor Venice Beach, although much cleaner, safer and upscale. Many Santa Monica residents come to shop/browse on Main Street, home of many boutiques and restaurants. Main Street also hosts a weekly farmer's market on Sundays. SMASH (an alternative school) and John Muir elementary schools are located in the neighborhood. Olympic High, an alternative high school, and Santa Monica High School[1] are also located in the area. Home prices range between 750,000 up to 5 million.
History
Although Santa Monica and Ocean Park (South Santa Monica) were both settled at the same time (in the early 1870's), Ocean Park's history is somewhat independent from that of the rest of Santa Monica. Separated from the north by a gully which today is occupied by the Santa Monica Freeway, Ocean Park was initially oriented towards the beach where a series of piers and other tourist attractions were erected in 1890 to 1910. Much of the housing during this initial period of development was deliberately temporary in nature. Although residential tracts began to be subdivided from the large blocks of land owned by families such as the Lucas' and the Vawters, construction tended to cluster on streets nearest the ocean, with the 4th Street hill as the inland boundary.

One of the city's oldest neighborhoods, Ocean Park sprang to life with Abott Kinney's 1891 Ocean Park Development Company. Kinney bought a sandy strip of land in Santa Monica's southwestern edge and began building roads, homes, parks and piers. After 1904, Kinney moved his attention to his Venice of America development (also called Ocean Park at the time) , south of the Santa Monica city boundary. The history of Venice and Ocean Park are intertwined.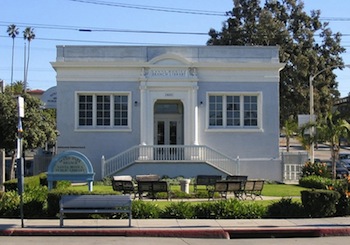 Ocean Park branch library, an original Carnegie library.

A Carnegie library is a library built with money donated by Scottish-American businessman and philanthropist Andrew Carnegie. 2,509 Carnegie libraries were built between 1883 and 1929, including some belonging to public and university library systems. 1,689 were built in the United States, 660 in Britain and Ireland, 125 in Canada, and others in Australia, New Zealand, Serbia, the Caribbean, and Fiji.
Ocean Park has also served as home to a number of important modern American artists. Diebenkorn had two studios on Main Street, one near Ashland, and the other near Hollister. It was from these studios that he painted the Ocean Park Series of 145 works. Diebenkorn is one of the most beloved post-war artists, and the Ocean Park Series is arguably the most celebrated of his illustrious career.
Preview all properties for sale below: Preview all properties for lease here: Preview all income properties for sale here: