Wilshire Montana, Santa Monica
Wilshire Montana consists of mostly luxury condominiums and apartment buildings. The boundaries are 21st St on the east, Montana Ave on the north, Wilshire Blvd on the south and the ocean on the west. Its close proximity to Montana Ave and the 3rd street promenade make this location exceptional. Here you are centrally located to the Beach and all of the best dining and shopping venues that Santa Monica has to offer.
The streets in this area of Santa Monica are California Ave., Euclid Ct., Euclid St., Idaho Ave., Lincoln Ct., and the "numbered streets" 1st Court, 4th, 7th, Lincoln, 9th, 10th, 11th, 12th, 14th, 15th, 16th, 17th, 18th, 19th, 20th and 21st St.
This area is home to historical monuments such as;
The Charmont Apartments, which was built in 1928. Designed by architect Max Maltzman with elements of both the Mission Revival-Spanish Colonial Revival style and the Art Deco style, the Charmont was a luxurious high-rise when it was built. The blending of Spanish Colonial Revival and Art Deco elements was popular style in the 1920s and is sometimes known as "Med-Deco." The main entrance is located in a walled courtyard that features a two-tiered fountain with an intricate Moorish-patterned backsplash in polychrome tile.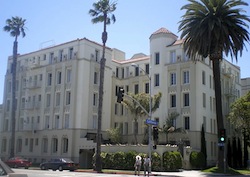 The Sovereign Hotel is a converted hotel built in 1929, the Sovereign was a large five-story, 130-room hotel. It was designed by architect Kurt Meyer-Radon and the Anglo American Building Company in the Mission Revival-Spanish Colonial Revival styles.
In Los Angeles: An Architectural Guide, David Gebhard and Robert Winter, wrote, "There was no reticence here on the part of the architect in showing how many Spanish Colonial Revival forms and details could be used."
The Sovereign Hotel was listed in the National Register of Historic Places in 1997.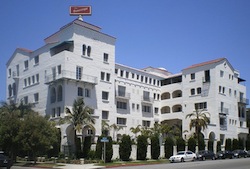 Preview all properties for sale below: Preview all properties for lease here: Preview all income properties for sale here: