Norma Triangle, West Hollywood
Norma Triangle is a residential neighborhood in West Hollywood, California. It encompasses the area bound by Doheny Drive and Beverly Hills on the west, Cynthia St. on the north, and Keith Ave on the south. The small district is carved into the shape of a triangle.
This unique neighborhood is filled with special & unique homes from Spanish, Craftsman, Modern to Old Hollywood Glam. One of Frank Lloyd Wright's original studios sits on Doheny Drive in the heart of the triangle. Pride of ownership abounds in this central to everything location.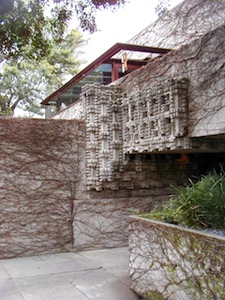 Frank Lloyd Wright's Old Studio & Residence.
The streets in and around the Norma Triangle Include; Cynthia St., Dicks St., Doheny Dr., Elevado Ave., Harland Ave., Hammond St., Hilldale Ave., Keith Ave., Lloyd Pl., Norma Pl., San Vicente Blvd., Willey Ln. & Vista Grande St.